Battery-operated sprayer, manufactured under high standards of quality, robustness, reliability and safety. Must be used with chemical agents with surfactant properties (surface active).
The Battery Compressor Pack includes:
The 18V Ion-Lithium battery with charge indicato
The battery charger
Two straps for attaching the battery to the sprayer´s tank
Reference Ik e Multi Pro 12
Sectors in which to use Ik e Multi Pro 12
Building
Cleaning and disinfection
Industry and maintenance
Automotive and detailing
Pest control
Epidemics & virus control
Products with which to use Ik e Multi Pro 12
Solvent-based pesticides
,
Alcohols
,
Oils, solvents and petroleum by-products
.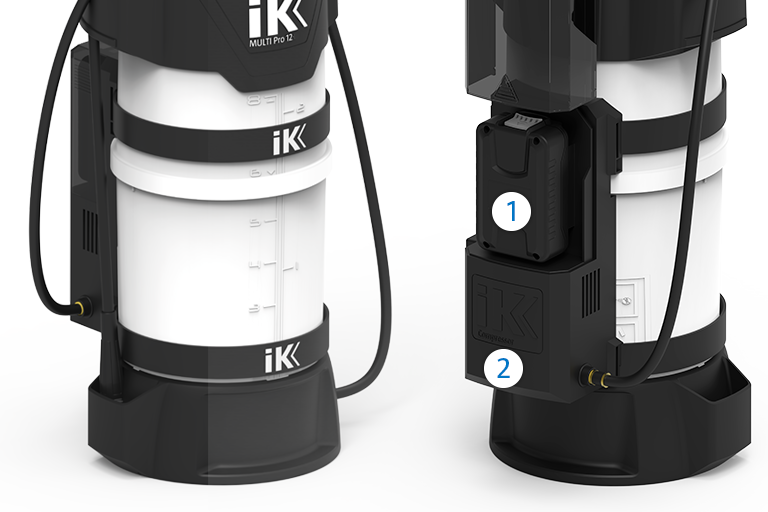 The 18V Ion-Lithium battery with charge indicator
Long life battery
Technical information
| | |
| --- | --- |
| Valve | Tared at 3.5 bar / 50psi depressurizable with automatic depressurization option |
| Hose | 1.5m / 59 inches |
| Standard nozzles | Adjustable conical nozzle and fan |
| Lance | 47 cm / 18,5 inches fibreflass |
| Useful capacity | 8l. - 2,11 U.S. Gals. |
| Total capacity | 10l. - 2,64 U.S. Gals. |
| Litres/Min. 3 bar | 0,7l/min - 0,18 gal/min |
| Gross weight | 2,99 kg - 6,59 lbs. |
| Net weight | 2,57kg - 5,66 lbs. |